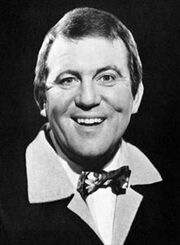 Owen John "Terry" Scott  (4th May 1927 – 26th July 1994), better known by his stage name as Terry Scott was a voice actor and comedian, who is known for voicing Penfold, the cowardly sidekick to Danger Mouse in the series of the same name. He also voiced Leatherhead, a henchman for Baron Silas Greenback, although the character rarely appeared.
Aside from his work on Cosgrove Hall, Scott was also known for playing Terence "Terry" Medford in the British sitcom Terry and June, starring alongside actress June Whitfield.
In 1987, while Danger Mouse was still airing, he was diagnosed with cancer. He would continue voicing Penfold while battling the disease. In 1994, two years after Danger Mouse ended its run, he passed away at the age of 67, having battled the cancer for seven years.