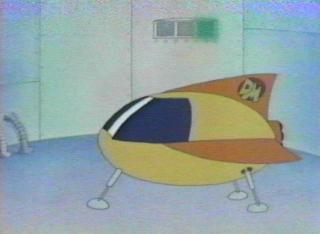 The Space Hopper is a yellow spaceship that Danger Mouse and Penfold use to accomplish missions in space. It has even been used to transport the two agents in Colonel K's body once before.
It was invented by Professor Squarkencluck and had most of the same features as the Mark III.
Episodes the Space Hopper has appeared in:
Custard! (Season 2, Episode 1)
Turn of the Tide (Season 7, Episode 6)
The Invasion of Colonel K (Season 3, Episode 1)
The Ultra Secret Secret (Season 7, Episode 2)
Gremlin Alert (Season 8, Episode 1)
Project Moon (Season 5, Episode 3)
Ad blocker interference detected!
Wikia is a free-to-use site that makes money from advertising. We have a modified experience for viewers using ad blockers

Wikia is not accessible if you've made further modifications. Remove the custom ad blocker rule(s) and the page will load as expected.