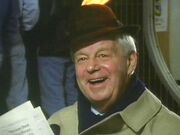 Richard de Persall Pearson  (1st August 1918 - 2nd August 2011) was a voice actor  who voiced Mole in the Wind in the Willows film in 1983 and  the TV Series.
He also appeared in the BBC sitcoms One Foot In The Grave as Victor Meldrew's absent-minded brother Alfred and Men Behaving Badly as Mr Strang.
He died peacefully just after celebrating his 93rd birthday from myocardial degeneration in 2011.
Ad blocker interference detected!
Wikia is a free-to-use site that makes money from advertising. We have a modified experience for viewers using ad blockers

Wikia is not accessible if you've made further modifications. Remove the custom ad blocker rule(s) and the page will load as expected.