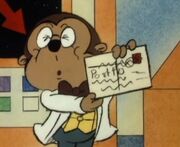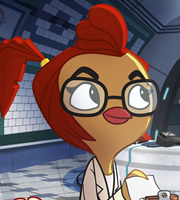 Professor Henrich Von Squawkencluck is a character in 1981-1992 series Danger Mouse. He is a mole who speaks in a broken German accent. He is a mad scientist inventor and a boffin who invented the Mark III, DM's flying car, and the Space Hopper, DM's personal spacecraft. He is a mole, despite his avian name (which comes from his first appearance on the show, in which, he was engaged in hormone experiments to grow chickens to enormous sizes). Penfold is naturally leery of the professor, as he often winds up on the wrong side of his experiments.
The professor does not reappear in the 2015 revival and is instead replaced by his niece who is also known as Professor Squawkencluck, who unlike her uncle, is a chicken rather than a mole and speaks with a Scottish accent rather than German.
Ad blocker interference detected!
Wikia is a free-to-use site that makes money from advertising. We have a modified experience for viewers using ad blockers

Wikia is not accessible if you've made further modifications. Remove the custom ad blocker rule(s) and the page will load as expected.