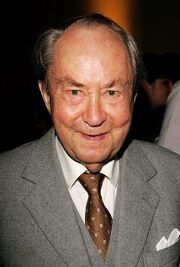 Peter J. Sallis (1st February 1921 - 2nd June 2017) was a well known actor who is best known for his role of Norman Clegg in the BBC sitcom The Last of the Summer Wine.
In 1984 he did the voice of Rat in the stop motion animated series The Wind In The Willows after Ian Carmichael who had originally voiced the character in the 1983 film took on the role of narrating.
Peter is also best known for voicing the wacky cheese-loving inventor Wallace in the Aardman Animation series Wallace and Gromit where he did four short episodes, a movie and a tv series called Wallace and Gromit's Cracking Contraptions, but now Ben Whitehead takes over
Due to a condition of macular degeneration, he retired from acting in 2012.
He died from natural causes at the age of 96 in 2017.