Mr Tubby Bear
Edit
Mr Tubby Bear is one of Noddy's next door neighbours. He is an orangey-brown Teddy Bear, he is very friendly and helps Noddy and others with manual jobs and decorating. In the 1975 version he was voiced by Richard Briers.
In Noddy's Toyland Adventures, he was voiced by Jimmy Hibbert.
Mr Tubby Bear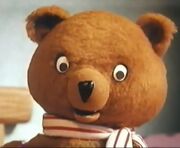 Ad blocker interference detected!
Wikia is a free-to-use site that makes money from advertising. We have a modified experience for viewers using ad blockers

Wikia is not accessible if you've made further modifications. Remove the custom ad blocker rule(s) and the page will load as expected.