Mr Polly
(Mr Sparks in NTA) is the Toyland mechanic and owns a garage in the town square. He wears a black bowler hat, Blue and white chequered coat and purple waistcoat, a white bow tie with red spots and green trousers, he only appears in
Noddy's Toyland Adventures
and in the original books the garage was owned by Mr Golly. In the 1975 version, the garage is owner by a French doll called Monsieur Polly. Jimmy Hibbert and Richard Briers voiced Mr Polly.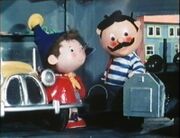 His first appearance in Noddy's Toyland Adventures was in Noddy and the Pouring Rain, in that episode he had a deep voice, however starting with Noddy and Martha Monkey he gained a more 'lighter' voice.
Section heading
Edit
Mr Polly gives Noddy that famous red and yellow car as a reward when he helps him and Mr Plod track down Gobbo and his gang who have stolen all the cars Mr Polly was looking after. In Noddy's Toyland Adventures, Mr Sparks is another good friend of Noddy, and fixes his car when it gets damaged, he has a crush on Miss Pink Cat. He also drives a fire engine in some episodes but in Noddy and the driving lesson the Skittles are driving it.
Ad blocker interference detected!
Wikia is a free-to-use site that makes money from advertising. We have a modified experience for viewers using ad blockers

Wikia is not accessible if you've made further modifications. Remove the custom ad blocker rule(s) and the page will load as expected.