Mr. Jumbo is a big grey toy elephant. He can be quite clumsy, once he walked into Big Ears who was riding his bicycle. The bike was smashed to pieces and some of them became stuck to Jumbo. In Noddy's Toyland Adventures he is good friends with Noddy and all of the other Toytown residents. He has low confidence of himself but has respect for law and order. In the 1970's version, he is yellow with blue eyes, he also has an Indian accent. Unlike 90's Jumbo, the 70's Jumbo is a lot more stubborn and sometimes rude to Noddy. He is voiced by Ian James Corlett.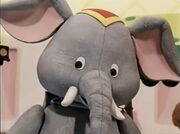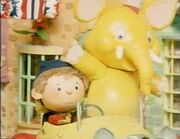 Section heading
Edit
In NTA, Jumbo's voiced by Jimmy Hibbert.
He was voiced by Richard Briers with an Indian accent in the 70's version.
Section heading
Edit
Write the second section of your page here.