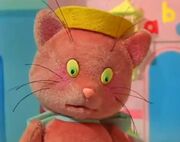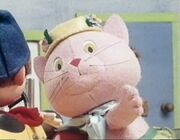 Miss Pink Cat is a French fluffy toy cat who is a character in Noddy's Toyland Adventures. She is voiced by Susan Sheridan in Noddy's Toyland Adventures and Richard Briers in the 1970's version.
Personality
Edit
She is a bit snobbish, vain and very rude which doesn't make her very popular with the other people in Toyland. But she occasionally realizes how nobody likes her attitude and tries to make things right.
Ad blocker interference detected!
Wikia is a free-to-use site that makes money from advertising. We have a modified experience for viewers using ad blockers

Wikia is not accessible if you've made further modifications. Remove the custom ad blocker rule(s) and the page will load as expected.