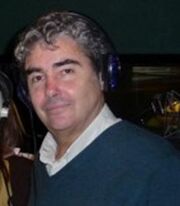 Jimmy Hibbert voiced, directed and wrote a lot of programmes:
Danger Mouse 1981-1992 (Augustus P. Crumhorn III)
The Wind In The Willows 1983 film and Tv series 1984-1990 (Various roles)
Alias the Jester 1985-1986 (Boswell and other various roles)
Count Duckula 1988-1993 (Doctor Von Goosewing, Sviatoslav the bat and other roles)
The BFG 1989 (Various Roles)
The Fool of the world and the Flying ship 1990 (Various roles)
Terry Pratchett's Truckers 1992 (Vinto Pimmie and The Policeman)
Noddy's Toyland Adventures 1992-1994, 1999-2000 (Big Ears, Mr Plod and other roles)
Victor and Hugo: Bunglers in Crime 1991-1992 (Victor)
Avenger Penguins 1993-1994 (Bluey, Bella, Harry Slime and other roles)
Fantomcat 1995-1996 (Lindbergh the pigeon, Vile the bluebottle and other roles)
Oakie Doke 1995-1996 (Co Writer)
Sooty's Amazing Adventures 1996 (Scampi, Katerina and other roles)
The Animal Shelf 1997-1999 (Various Roles)
Terry Pratchett's Soul Music 1997 (Hibiscus Dunelm, CMOT Dibbler and other roles)
Enid Blyton's The Magic Faraway Tree 1997 (Various Roles)
Terry Pratchett's Wyrd Sisters 1998 (King Verence and other roles)
Lavender Castle 1998-1999 (Sir Squeakalot, Dr. Agon, Trump and other roles)
The Fox Busters 1999-2000 (Todd, Volpone and other roles)
Bill and Ben 2001 (Ben and other roles)
Doctor Otter 2001-2002 (Flybread, Dunston, Mexley, Texley, Dexley)
Ad blocker interference detected!
Wikia is a free-to-use site that makes money from advertising. We have a modified experience for viewers using ad blockers

Wikia is not accessible if you've made further modifications. Remove the custom ad blocker rule(s) and the page will load as expected.